This post may contain editorial samples and/or affiliate links. We earn a commission on your sales.
If you are looking for the perfect gift for first time grandparents gifts, look no further! We have put together a list of 19 unique and thoughtful gifts that will surely put a smile on their faces. From personalized books to photo frames, we have something for everyone. So what are you waiting for? Start shopping today!
It is an exciting time in one's life when one becomes a parent for the first time. It is even more exciting when they become a grandparent for the first time! I have step-grandchildren, and grandchildren of a friend that I have adopted as my own. However, soon I will have my first biological grandchild and I am more excited I think than my daughter!
Grandparents are known to brag about their grandchildren and rightfully so. You are probably thinking about purchasing grandparent-themed gifts for your parents or your in-laws. There are a lot of items on the market to choose from.
What first-time grandparents gift will show how much you love them?
First-time grandparents are so excited to become a grandparent! They are over the moon about it and want to share their joy with everyone they know. So, finding the perfect first-time grandparent gift can be tricky. You want to find something that is unique, and thoughtful, and will make them smile every time they see it.
Here are 19 unique and thoughtful first time grandparents gifts:
As a grandmother, these are some of my favorite ideas for presents for first-time grandparents.
Baby First Year Picture Frame Collage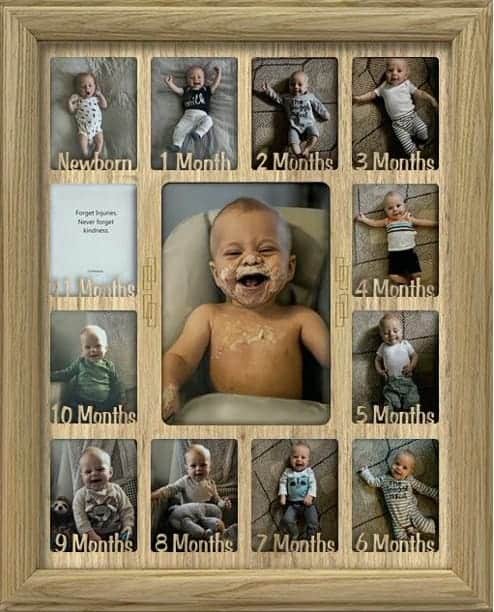 This framed collage is a great way to show how much a beloved grandchild grows within the first year. It makes a great keepsake as well. It holds 12 standard wallet-sized pictures of the child. You can purchase this at either Walmart or Amazon. Amazon offers customization with the child's name.
Digital Picture Frame
A digital picture frame is great for anyone. When you are looking for presents for first-time grandparents a digital picture frame is a great choice.
Grandparents can add pictures and videos of their new grandchild to the picture frame at any time. Depending on the version you purchase, images can be added to it via email.
Facebook Portal
Do you know what a Facebook Portal is? It is amazing! You can open a message room for up to 50 people with it and talk via video. This is a great way to stay in touch in real-time with family and see that adorable little bundle of joy in your life.
You can also play your favorite music on it as well. We plan on purchasing them for our family. Presents for first-time grandparents should be practical and useful. This definitely fits the bill.
My Favorite People Call Me Grandma Figurine
How adorable is this grandma figurine from Precious Moments? If the new grandma collects figurines this adorable one definitely falls under presents for first-time grandparents perfectly.
This porcelain figurine is a work of art. The painstaking detail that went into it must be seen to believe, and even though its height measures 5 inches tall on average you'll want one for your collection because they're just so cool!
Got Promoted to Grandpa shirt
Does the new grandpa love funny saying t-shirts? I know my husband does. He loves shirts with sayings (especially sarcastic ones) and would love this one for sure.
We all know this shirt is true that great dads get promoted to grandpa am I right? Chose from either of these shirts.
Grandkids spoiled here doormat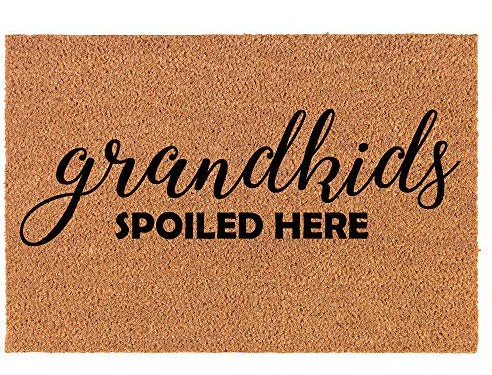 We all know that grandparents love to spoil their grandkids. It comes with the territory, right? Why not show off that spoiling will happen with this doormat? When you see this doormat, you know there is a lot of fun to be had.
Grandmas brag board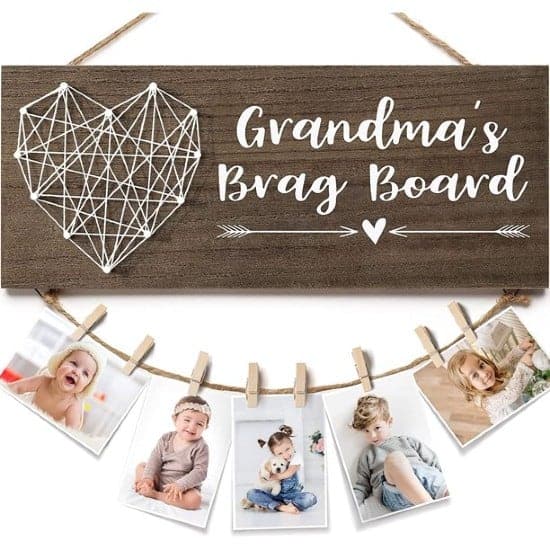 Grandma love to show off pictures of the grandkids and this brag board is a great way to display the newest pictures. I love the clothesline look and the clothespins to hold the pictures to display them. First-time grandparents gifts are a great opportunity to find different ways to display photos.
Great Moms Get Promoted To Grandma Shirt
I shared a t-shirt with a new grandpa, so of course, I have to share one with a new grandma as well. How cute would it be to have the grandparents wear them at the same time? I think it would be absolutely adorable personally. Chose from either of these shirts.
Grandparents Coffee Mugs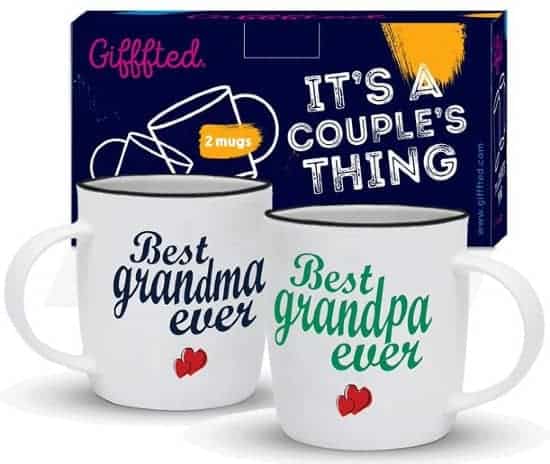 Are you looking for presents for first-time grandparents that can be a gift as a couple? These coffee mugs will fit that bill. It's a great way to start the day with your morning coffee to remind yourself how great of a grandparent you are.
Grandparents' House Sign
This wooden sign is another way to advertise that there is a lot of spoiling going on in this house. Why is it that once we become grandparents we want to spoil the kids in ways we never did when our kids were younger? Chose from either of these signs.
Mimi's Place Sign
Not all grandmothers choose to be called grandma. There are a bunch of different versions you can choose from. Personally, I am Mimi to my grandchildren. This sign needs to be purchased for my home and hung up with love!
MyBevi Tumbler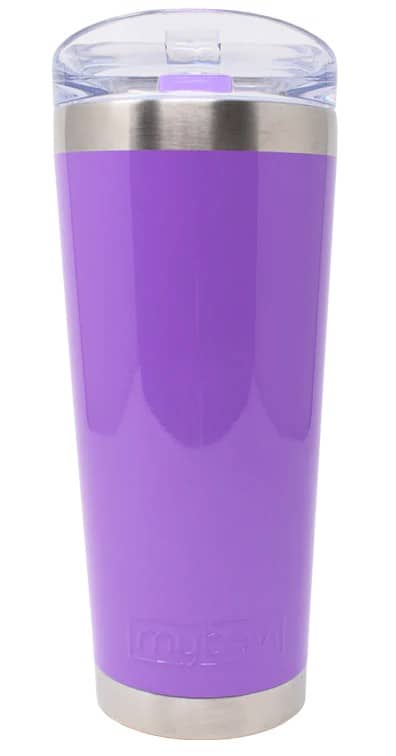 It is important for everyone to stay properly hydrated to prevent dehydration. I have one of these tumblers and it is amazing. It keeps things at the right temperature for hours. What I love about this particular tumbler is that it comes in different colors and can be customized. When looking for first-time grandparents gifts customized items are always a great choice.
Opove Massage Gun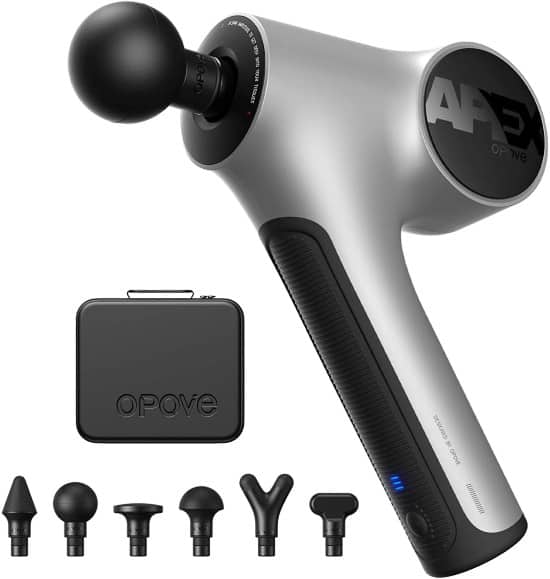 Along with the foot care essentials bundle, you may want to gift the new parents a personal massage gun. I know it is a unique gift but it will help sore tired muscles. Grandparents tend to use muscles they are not used to from lifting/rocking/playing with the grandkids and this can help. We own one and love it.
Our Little Miracle Picture Frame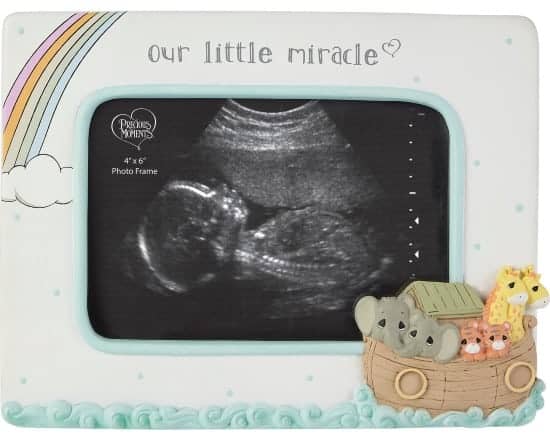 All babies are miracles. This little picture from Precious Moments shows off that miracle. Holds a 2"x3" photo with the message "Little Miracle". This Bisque Bear Ornament is carefully crafted of fine porcelain and hand-painted to perfection. It features an adorable teddy bear holding up its favorite yellow blanket.
Hi-Dow Tens Machine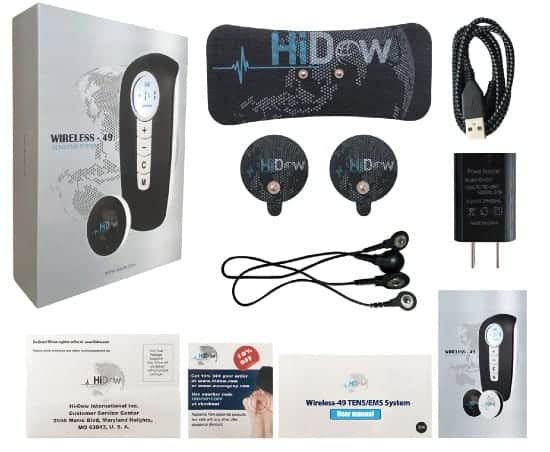 A wireless tens machine is another way for grandparents to ease tired, sore muscles. I have this exact tens machine and love it so much! There are so many benefits to a wireless tens machine.
A tens machine is a great non-pharmaceutical way to deal with pain.
What an amazing time to become a first-time grandparent! These unique and thoughtful gifts will make the special occasion even more memorable. From personalized items to sentimental keepsakes, there's something here for every first-time grandma and grandpa. So get ready to celebrate this exciting moment with family and friends – and don't forget to give the new grandparents a gift they'll cherish forever. Thanks for reading!
Do you have any first-time grandparent gifts to add? Share them with us in the comments below!
Follow Me On Social Media: